January 25-27, 2018 • Southern Illinois University Carbondale
2018 Region III Student Lead On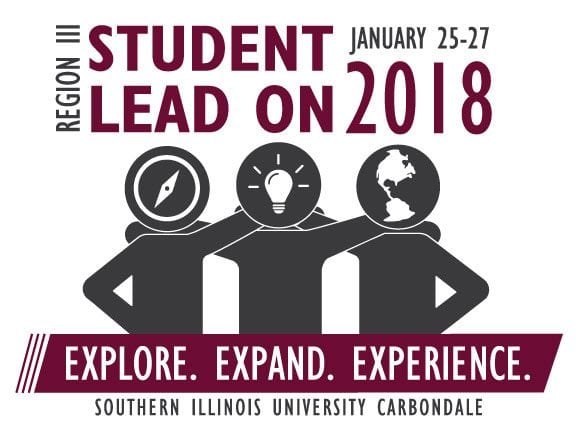 Hello NIRSA Students and Professionals,
The Region III Student Lead On Planning Committee and University Recreation at Southern Illinois University Carbondale would like to take this opportunity to invite you to the 31st Region III Student Lead On.  Please join us in Carbondale, Illinois from January 25 – 27, 2018.  
Our student planning committee and host committee is working hard to ensure this event will be extraordinary.  This conference will offer a multitude of pre-conference activities, education sessions, information sessions, social events, professional development, and networking opportunities.  Some new additions to this year's conference include Talk to a Pro and the Saluki Food Pantry.  Talk to a Pro is where a professional will lead a 20 minute session discussing a variety of areas within collegiate recreation.  Students will get the opportunity to ask questions and gain insight from professionals.  The Saluki Food Pantry provides food assistance to students in times of need on SIU Carbondale's campus.  We will be engaging in a friendly state vs. state competition to see who can get the highest points.  To find out more information and check out the pantry point system, click here! 
Beyond the formal agenda, you will have many opportunities to learn from and share experiences with peers from a wide range of collegiate recreation programs and facilities within Region III.  As this year's theme states, we encourage everyone to Explore, Expand, and Experience.  Through this three day event, search for what these three words mean to you.  Maybe you want to explore a new area of collegiate recreation, expand on your knowledge of facilities, or experience something new.  Whatever it may be, the Region III Student Lead On conference can assist you in this search.   
Take a step towards achieving your personal and professional goals by registering for this conference today!  We look forward to exploring, expanding, and experiencing this conference together as a region!
Justine Morneau, Western Michigan University
2018 Region III Student Lead On Coordinator    
2018 Region III Student Lead On Planning Committee
Student Coordinator – Justine Morneau – Western Michigan University
Community Engagement
Jordan Leslie (chair) – Eastern Illinois University

Troy Westerhof – Ohio University

Mark Bell – University of Illinois
Marketing & Sustainability
Lauren Rausch (chair) – Rose-Hulman Institute of Technology

Claudia Cooper – University of Southern Indiana

Katie Gettman – Cleveland State University
Professional Development
Samantha Fitzpatrick (chair) – Western Michigan University

Caitlin Osborn – University of Illinois Springfield

Grace George – The Ohio State University

Matthew Collum – Western Illinois University
Program and Proposal
Laura Whiteley (chair) – Oakland University

Lydia McCall – Ohio University

Dalton Schmidt – University of Southern Indiana
Registration
Courtney Copp (chair) – Southern Illinois University Carbondale
Dan Wrenholt – Indiana University
Tori Law – The Ohio State University
Katie Miller – Indiana State University
Host Committee – Southern Illinois University Carbondale
Troy Vaughn

Corne Prozeski

Shari Garnett

Davide Torress

Jeff Goelz

Mary Stoffel

Dee Donaldson

Veronica Singston-Tantocco